Wood Floor Sealing Products
There are many floor sealing products on the market and after long years in the business we know we offer the best quality, environmentally friendly, hard wearing, easy to use varnishes around town. You will not normally find these products at your local high street builder´s shop, as they are professional products developed for specific purposes.
Varnishes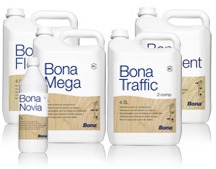 All varnishes we use are water-based and contain no health hazardous solvents. Other qualities they all have in common include:
Quick drying, meaning just 1-2 hrs between consecutive coats with up to 3 coats applied daily.
Can take light traffic as soon as 4 hrs after the last coat.
Hard wearing, reliable and extensively tested professional products unavailable in shops.
Rollers can be used so as to speed application. Also brush and paint pad friendly.
Varnish coming in Gloss, Satin and Matt finish varieties. This defines the sheen of the floor finish and we will ask you what type of finish you prefer before we go on with the job.
How Many Coats?
Busy high traffic areas such as kitchens, corridors, hallways, reception areas may need as many as 3 or 4 coats. At least 3 coats of varnish will have to be applied to floors In lounges and dining rooms. Typically, 2 to 3 coats are enough for bedrooms and the like.
Drying Time
Drying time with water based depends on:
Humidity - varnish clearly takes longer to dry on humid days.
Temperature - a warm room means quicker drying. Putting the heating on an hour before varnishing on cold days can substantially shorten drying time.
Ventilation. Good ventilation is essential if you want to speed up drying. Airing out the rooms by leaving windows and doors open as long as possible means drying takes much less time, just remember rain can be disastrous to your newly finished floor. We also use our own airflow equipment wherever possible to shorten drying time.
Application
We need natural light to make sure you floor is done to perfection and we have attained the wood floor finishing we are after. Therefore, we would ask you to allow us to start as early as possible without disturbing your daily routine. Applying varnish to floors leads to wood grains getting bristled. So, proper floor finishing requires final, fine floor sanding to procure perfectly smooth surface.
Wood Floor Products Used by FlooringFirst! Services
The complete range of the products used of for sealing wooden floors by FlooringFirst is available here ».