Wood Floor Sanding & Sealing Services London
Wood floor sanding is our speciality when it comes to floor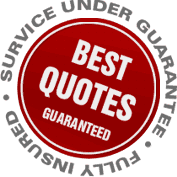 restoration and we claim to know virtually everything about it. We have got years of long experience dealing with a wide variety of wooden floors. We have been growing rapidly and now we offer the ultimate restoration services portfolio in London.
Floor sanding is a craft that takes quite a while to master and become confident with. The art of transforming the look of rusty boards or 100s of years old parquet into a fine, beautiful floor and see it return to its former glory of shiny and smooth finish feels great and the happy faces of our customers at the end result of our work is a reward in its own.
Dust Free Floor Sanding Service
Wood floor sanding is just a stage in the wood floor restoration process that relates to the preparation of the timber surface. Sanding removes the protective layer of your floors - be it varnish, oil or hardwax-oil and makes their surface smooth, clean and ready to the new finish.
Sometimes thinner or cracked board or loose parquet block may need to be re-fitted, or entirely replaced if parts of the floor have been damaged due to moisture, wearing and lack of solidness.
We are proud of professional range of sanding equipment and our time prooved methods, used to prepare the timber surface and give it a uniform, smooth and fine finish. Our floor sanding equipment is Dust Free - although due to the nature of the sanding process some small amount of dust particles remain uncaptured. Our floormen, however, will provide dust sheets during the job, so that all areas where even small amount of dust is undesirable can be properly sealed and protected during our floor sanding service.
If you wish us to help you imagine how your old wood floors will look after the floor renovation, we will be happy to provide a sample area during the viewing of your floors. Seeing for yourself is nice as it helps with decoration planning. You may even decide you would rather have a perfect match and go for one of our floor staining options.
Parquet Floor Sanding
Parquet floor sanding requires the floor man's absolute attention to detail. Due to the various directions of the parquet flooring blocks and the flow of the wood grain, it is more challenging to finish parquet flooring than any other type of wooden floors.
This is where our passion for wood comes handy. We love restoring parquet floors as we love laying them. We know as a fact that classics never get out of fashion.
Our services can offer finishing of parquet flooring in water-based and solvent-based lacquers, hardwax-oil in a variety of colours, which include Morrells light fast floor staining, Bona Create range of colours and the complete range of Osmo hardwax-oils including their transparent colour range.
Engineered Wood Floor Sanding
Engineered wood floors exist for a reason - they are designed to give us the natural wood floor feeling we want, but not the contraction of the solid wood flooring, which in certain environments and conditions may cause damage.
We know all about these floors! They are great! Now, how about sanding engineered wood flooring?
The top layer of engineered flooring can vary between 2.5 - 6 mm. Anything less than that we will not include in this group of products at all. That thickness allows certain number of wood floor restorations to be carried out during their life span.
Getting our floor sanding service against any other floor sanding company for your engineered wood floors will give you the assurance that floor-men in your property are able to take the right decision for your engineered floors. They will proceed with the type of abrasive that will focus on removing the sealants layer only, making sure the floors retain their real wood top layer as much as possible. If the floors are in poor condition and have an extensive wearing with insignificant thickness of the top layer, we will advise you prior to any works.
DID YOU KNOW? that if your engineered wood floors have planks with 2 or 3 strips effect, that would mean the top layer is between 2.5 - 3.5 mm.
DID YOU KNOW? that the solid wood floors can be sanded up to the tongue & groove only and that the sandable depth on a standard 18 mm thick solid wood product is approx. 7 mm? That depth will give you almost as much floor sanding as a 6 mm engineered wood flooring.
Sealing Sanded Floors - Lacquers, Oils, Hardwax-Oils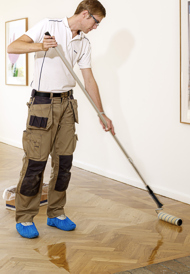 Once your wood floors have been sanded, stained and gap filled to perfection, we can get down to finalising the job and seal the bear wood surface. Sealing the floor using quality lacquers or oils is crucial. We use professional trade products created by the flooring industry leaders Bona, Osmo and Junckers.
Our range of floor finishes include water-based single component clear lacquers designed for domestic wearing; two-component commercial grade lacquers and the new range of natural lacquers, which do tint the colour of the bear wood to a minimum, leaving the overall look of the floors as unfinished timber.
Our recommended hardwax-oil products include Osmo and Bona, however occasionally upon clients request we also use Blanchon products.
All Bona & Junckers water-based lacquers are Low VOC products. All Osmo products contain solvents and natural wax products.
Finishes Used with Our Floor Sanding Services
The complete range of the products used for sealing wooden floors by FlooringFirst is available here ».
Our flooring service comes with obligation free site visit, quick quotations and free advice. Give us a call on 0800 0434359 or 02088309782 to speak to a member of our staff, who can arrange for a free assessment of your floor sanding or wood floor fitting service at convenient for you time.