School Floor Sanding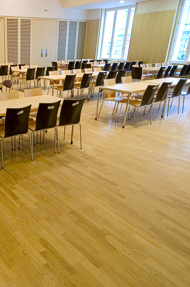 School floors comprise a big chunk of our regular services. Reason being - they benefit from our special school floor sanding rates and our commercial grade products, designed for high traffic areas.
Primary schools, colleges and universities all enjoy the benefits of parquet flooring, mosaic fingers flooring, wide pine flooring planks, solid beech and oak flooing.
Junckers beech flooring is among the common wood flooring our school floor sanding service will treat, usually in the school sports halls and gyms.
Finishes Available with Our School Floor Sanding
Our school floor sanding service comes with option for watrer-based and solvent-based products. The traditional solvent-based product we offer include Junckers Professional 625 and Rustins Sealer (for high-gloss requirements). Our water-based product selection is short and includes Junckers HP Commercial + Friction and Bona Traffic.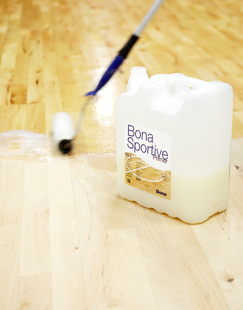 Finishes Available with School Sports Halls
We love Junckers flooring and therefore we love sanding school floors as well. With our sports hall floor refinishing we always recommend Bona and Junckers Supportive systems. Both floor finishes offer a range of highly durable lacquers, cleaners and sport lines marking paints.
Our flooring service comes with obligation free site visit, quick quotations and free advice. Give us a call on 0800 0434359 or 02088309782 to speak to a member of our staff, who can arrange for a free assessment of your wood floor sanding or wood floor installation service at convenient for you time.