Stairs & Banisters Sanding
Stairs Sanding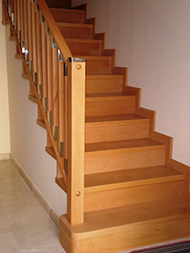 Sanding stairs is a relatively slow and labour intensive process due to the fact that only small sanding tools can be used and most of the work needs to be done by hand. However, once restored, the stairs can become a stunning centrepiece in any home.
Like any wooden flooring, stairs can be sanded several times to restore the beautiful natural look. It is a shame to cover the stunning appearance of any wooden floor with other floor coverings like carpets, for example, as nothing really will be as beautiful as the natural wood.
Once sanded, stairs can be stained with your desired colour or just sealed with clear varnish or oil. There are extremely hard wearing wood floor sealants available today for areas like stairs where high level of foot traffic is expected, so you should not worry about the durability of the floor finish.
Banisters Restoration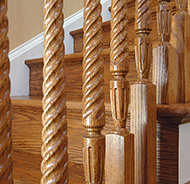 When restoring your wooden floors and stairs, you might as well consider sanding your banisters to create a complete renovation in your home. Banisters complement your staircase and that is why their appearance is extremely important for your interior.
In most cases, it is possible to restore scratched, dull or damaged banisters simply by sanding them and re-finishing.
Because banisters are in most cased in round shapes and relatively small, their sanding requires real craftsmanship and involves mainly work by hand.
Despite the time and labour consuming process, banister staining will restore the natural beauty of the wood and will contribute to the style and comfort in any type of interior.

Our flooring service comes with obligation free site visit, quick quotations and free advice. Give us a call on 0800 0434359 or 02088309782 to speak to a member of our staff, who can arrange for a free assessment of your floor sanding or wood floor fitting service at convenient for you time.