Gap Filling And Floor Restoration
Gap filling is usually applicable to solid wood flooring and parquet flooring. It is part of the wood floor restoration process. With time and due to natural expansion and shrinking of the wood because of environmental changes, gaps open between the planks or the blocks. Many people want those gaps filled during the floor restoration. Depending on the size of the gaps, there are several ways in which the gap filling can be made.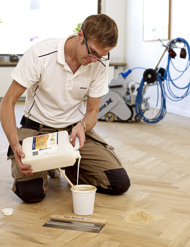 Gap filling with resin and wood dust is applicable to gaps between the planks of up to 6mm. This is one of the most frequently used and cheapest methods for gap filling. Dust taken from the floor sanding, and clear resin is applied with flat spatula to the wooden floor to fill the gaps between the planks.

Gap filling with wood strips is applicable to gaps between the planks wider than 6mm. It is more resistant and durable. This method is more expensive due to the use of extra wood materials. The strips are cut from reclaimed pine timber, which would match your wood floor as close as possible in colour. The wood strips are glued and hammered in the wood floor gaps. If the gaps are more, the strip filling can be time consuming and delay the floor restoration process.

Gap filling with Bona gap master filler is applicable to tiny gaps between the planks, minor repairs, cracks and filling around beadings and skirting boards. Bona gap master filler is manufactured in different colours, so a very close match can be found to match the colour of your wood floor. Gap filling with Bona gap master filler is very expensive. The benefits of the filler are that it is flexible with 7% expansion rate and odour-free.

Please note that wood is a natural material and it can expand and contract. The professional floor sanding companies will refit the floor boards of your floor and nail down the loose one in order to limit the movement of the floor boards; however no company can guarantee the gap filling on your floor.