Gap Filling
Wood floor gap filling is a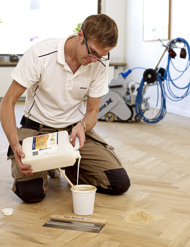 procedure which goes on most of floors at some stage of their life. This is due to the nature of the wood, which may contract to certain degree depending on the product type, species and method of installation. There are several different methods available for filling gaps on wooden floors.
Resin Mixed With Saw Dust Gap Filling
One of the most widely used methods for gap filling wooden floors is mixing clear resin filler with saw dust collected during the floor sanding process, to create a thick putty with the same colour as the floors, applied with a spatula between the floorboards. This method is mainly used for gaps on parquet floors and floor boards where the gap is less than 5 mm wide.
The advantage of this gap filling method is that it provides basis for smooth floor finish, dries quickly and the gap filling mixture has identical colour to your flooring because the sawdust has been collected from the sanding of your floors.
The down side of resin gap filling is that it is suitable for solid and stable planks over solid base / joist support. On non-grooved floors such as the original pine floor boards, is difficult to guarantee its durability as any movement caused by weak, cracked or over-sanded boards as well as movement in the joists, will cause displacement of the filling. That is why, this method is often more efficient when applied on parquet flooring or lock joint floorboards where the gap filling will not fall through.
To minimise the risk of gap filling falling through, we use an exceptionally high quality of resin filler products and our wood floor gap filling service comes including inspection and refitting of the flooring, prior to the restoration.
Wood Strips Filling (Slivers)
Strip filling is a method that is mainly applied on floorboards and involves cutting strips of wood and gluing them in the gap. This method is more effective than the resin gap filling as the wood strips also sit on the joists, so they cannot fall through.
The advantage of filling the gaps with wood strips is not only the durability, but also the visual effect which is natural and nice.
All gap filling methods are always applied before the floor sanding process as the sanding will make the whole surface smooth and ready to be varnished or oiled.

Our flooring service comes with obligation free site visit, quick quotations and free advice. Give us a call on 0800 0434359 or 02088309782 to speak to a member of our staff, who can arrange for a free assessment of your floor sanding or wood floor fitting service at convenient for you time.