Floor Sanding And Abrasive Choice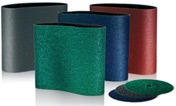 One of the most important parts of the wood floor restoration process is the choice of abrasive. Using the right abrasive would ensure easy floor sanding, minimum wood waste and smooth floor surface after the floor sanding
There are many grits abrasive. The most frequently used grit abrasives in the floor restoration are:
24-grit
40-grit
80-grit
120-grit
You should take into consideration the condition of your wooden floor while choosing the grit of the floor sanding paper to start with. For wooden floors in poor condition with many scratches, bad level, uneven surface, which have not been sanded before, the coarsest grit abrasive is the most appropriate to start with. That would be 24-grit sanding paper. For wooden floors in a good condition, which have been sanded before, 40-grit or 80-grit sanding paper might prove a better choice. 120-grit is appropriate for the finishing phase of the floor sanding.
You should remember: use as fine grit sanding paper as possible.
Make sure the wood is even before starting the floor sanding.
Change abrasive frequently, whenever necessary.