Bamboo Floor Restoration
Bamboo floor restoration might be needed
either when the bamboo flooring is installed, if it has not been pre-finished,
or several years after the installation, when scratches and worn out patches start to appear.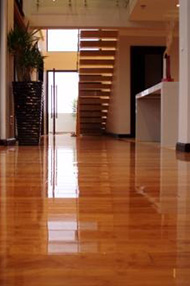 Bamboo flooring restoration is a process very similar to wood floor restoration and any professional floor sanding company can do it for you. If you feel confident in wood floor sanding, you can also try and do it yourself. While doing the bamboo floor sanding you should bear in mind that bamboo is softer than most of the hardwood species and the floor sanding paper used in the bamboo floor restoration should be finer grid.

For bamboo floor restoration and finishing after installation, only buffing might be needed, which would smoothen the surface and make it ready for the application of the sealant. For the bamboo floor restoration after several years of usage, bamboo floor sanding might be required, which would help remove all scratches, light indentations and the whole sealant top layer. Then buffing would smooth the bamboo floor surface and finally new coats of sealant would be applied.

If the bamboo flooring has been carbonised and its colour has been darkened, the floor sanding would not change the colour of the bamboo flooring. If the bamboo flooring has been stained, or the time has changed the natural colour of the flooring, then floor sanding might change the colour of the bamboo flooring, restoring it to its natural shade.