Wood Floor Scratch Repairs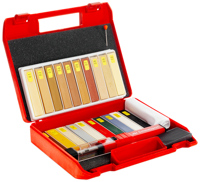 Wood floor scratch repair is what our clients often call us for and in many cases it is about a new or recently laid floor, which has been scratch damaged by accident. Well, these are the cases where our wood floor scratch repair service can come handy.
If you have wooden floors, you know just how fragile your beautiful flooring can sometimes be when it comes to spills, accidents, or scratches.
Who Can Benefit From This Service?
The surface damage of a floor finish can suffer scuffs, indentation or scratches.
Scuffs would usually show up on lacquer finished floors with the time. These hair-wide scratches usually are the first indication for the floor finish wearing. They are caused usually by shoe or slippers traffic or regular moving of objects such as wheeled furniture. Treatment of such with floor polish will make them disapear and will increase the strength and durability of the floor lacquer - Wood Floor Clean & Polish is our service designed for floors with some wearing.

Indentations are usually caused by falling objects or by high-heeled shoes. These would not normally damage to great extend the finish of the floors and are difficult to remove without sanding and resealing.

Scratches are the most visible from all floor finish damages - it may only damage the surface of the sealant or go deeper to the timber as well. Depending on the type of sealant various options are available for masking and resealing scratches.
How To Book This Service?
Prior to booking this service we may ask you to take few pictures of the scratches and email them to us. It will be also usfeul to know when the floors were last refinished or fitted and what was the original finish - lacquer or oil.
How Much It May Cost?
Our scratch repairs service is available at a call out charge of £130.00 ex. vat (max. 2 hours work).
Our flooring service comes with obligation free site visit, quick quotations and free advice. Give us a call on 0800 0434359 or 02088309782 to speak to a member of our staff, who can arrange for a free assessment of your floor sanding or wood floor fitting service at convenient for you time.