Supply and Fit Boen Engineered Flooring
Wooden flooring comes from nature. Beautiful natural shades surround us in our homes and workspace, thanks to the way we've managed to preserve and bring their benefits and characters into our day life.
Boen is one of the world's leaders in engineered wood flooring and FlooringFirst is proud to offer supply and fitting of Boen engineered flooring on their complete range of products. Boen's range of wooden flooring includes: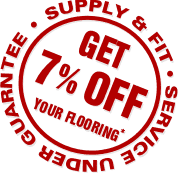 1-strip and 3-strip engineered flooring with 10 to 23 mm thickness
20 mm solid wood flooring
10 to 12 mm engineered prefinished parquet blocks and tiles
Possibility of floor sanding and floor restoration
Benefits of Boen Flooring
Six layers, of extremely wear resistant, formaldehyde-free UV lacquer, with optimal grain-filling for a natural look.
Ideal for underfloor heating. Exception will be all Boen beech and maple floorings, as these species are
The Boen Xpress System - the new flooring glueless floor installation system offers speed installation and easy, clean way for reversing and repairs.
Variety of shades and wood floor species, including oak, beach, ash, maple, merbau, walnut, iroko and panga-panga.
Subfloor Requirements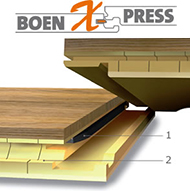 Before starting installation of Boen engineered flooring making sure the subfloor is dry, levelled and self-supporting is essential. Approved by FlooringFirst subfloors are 22 mm chipboard, 19 mm plywood or 21 mm floor boards.
The moisture content of the subfloor should be within a range of maximum 12%. FlooringFirst operatives will measure the subfloors dampness if any concern is raised and hold the installation of the floors if levels go over the recommended readings.
Irregular sounds or faults in the subfloor should be noted before the installation of the floors. A layer of flooring underlay should be laid between the subfloor and the engineered flooring to avoid friction sounds. It also helps absorb minor evenness in the subfloor level.
Concrete sub-floors must be well levelled and devoid of cement lumps, etc. The tolerance limit is +/- 3mm per 2 running metres.
It is always recommended the go for DPM enabled underlay or go for a separate layer of 0.20 mm thick plastic foil on the concrete to insulate against any remaining damp.
Floor coverings of linoleum, vinyl plastic, etc. do not need to be removed but a layer of foil is recommended between them and the flooring. Thin, firm carpet e.g. needle felt, is in itself, a good underlay for parquet but for reasons of hygiene we recommend that these be removed. All other types of carpet should be removed prior to installation.