Parquet Flooring Installation
Parquet Flooring Blocks - Being in Style with Classics
Using the finest European oak, with our parquet floor fitting service you will get a floor for a lifetime. Parquet flooring comes in blocks, which can be laid in various patterns to create an artwork rather than
just a coverage on the floors. Although classic designs such as herringbone parquet flooring are still an up-to-date fashion, parquet flooring blocks can be laid in many creative ways. Some of them have names such as chevron, basket weave, dutch pattern and others maybe you can create yourself.
FlooringFirst! is one of the largest stockists of oak parquet flooring blocks in UK with a selection of grades and sizes which are 20 mm thick, 70 mm wide and come in range of 230 mm, 250 mm, 280 mm and 350 mm lengths.
That makes us special about parquet flooring - that makes us specialists in parquet floor laying. And here is how we do it...
Subfloor Preparation
Parquet flooring is sensitive to the subfloor level, therefore prior to fitting the blocks we will make sure we have taken necessary measures for smooth and solid subfloor. If you have a concrete subfloor we will make sure the floors are properly screeded and enough time is left for the screed to dry. If the subfloor is wooden we will achieve level improvement with a new layer of plywood or chipboard - thickness of which is usually advised based level differences.
Although smaller sized or narrow planked hardwood, such as the parquet flooring blocks is not that sensitive to humidity, we will always recommend application of a liquid damp proofing course over concrete floors prior to the flooring installation.
Fitting Parquet Flooring Blocks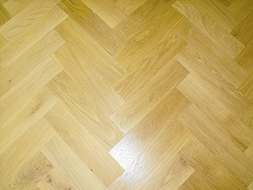 Parquet flooring blocks can be laid in various patterns and you will tell us of your preferred design. We will ask as well wether you would like the design to extend from wall-to-wall or you would like to have the pattern surrounded with a border of parquet flooring blocks that runs in one (Single Border) or 2 blocks (double border) around the walls and door frames.
Borders can also be fitted with solid wood flooring planks in various width instead of parquet flooring blocks, which may provide a neater finish and look.
Border can also be fitted with a different wood species, which contrasts in colour with the overall flooring. FlooringFirst! offers 3-strip deco borders in merbau-ash-merbau and walnut-ash-walnut timber. We also offer wenge and merbau single strip deco borders.
Parquet floor installation starts with measurements and planning of the main line(s), around which the patterns will be fitted. These can take time until all is set up, but filling the space in the premises can go relatively quick.
Unlike installation of solid wood flooring the process of parquet flooring fitting goes in stages, most of each will need to happen in separate days. This is due to the fact that the wood floor adhesive has its operational drying time and next operations can only be conducted once the adhesive is completely hardened. This is the reason such type of installation can be quite lengthy. In fact, it is sometimes a fact that 20 sqm and 40 sqm can be completed in the same number of days.
Sanding, Buffing and Sealing
Once all blocks are fitted, the floors will be ready for finishing. Major part of the parquet floor sanding is the gap fillling. Fitting even with highest care will leave small gap on the joints of some blocks and now we will resolve that by gap filling entire area.
Once floors are gap filled, they will be sanded with medium and fine abrasives. FlooringFirst machinery includes latest floor sanding equipment, including the orbital disc sanders "Lagler Trio" and Bona "FlexiSand", which are the perfect tools for fine finishing of parquet flooring.
Sealing of the parquet flooring blocks can come with lacquer, oil o hardwax-oil - it is your own choice. We use the products of the world leaders in floor finishes Bona, Junckers, Osmo and Ciranova.
Staining parquet flooring is another option to consider when finishing your floors, if you'd like to go for unusual colour such as dark brown, black, white-wash or grey-wash - we can provide you with unlimited choice of colours to suit your needs.
Why We Do Not Encourage Installation of Reclaimed Blocks?
On many occasions when we have been asked to refit reclaimed parquet flooring we have refused. On those occasions, which we have accepted the works, we have looked into the material in detail before proceeding.
In many cases where blocks have been removed from site were sold cheaply by the bag, without clear overview of their condition. While stored and moved around their edges and fittings (T&G) will suffer phisical damage. They will not go back in the same place causing greive to the fitters, but most importantly the hardened adhesive will not allow them to fit perfectly next to each other. After the fitting is completed the overall level of the blocks will not be good and very intense floor sanding will be required. Final result will be seriously gap filled parquet flooring with significantly reduced wearing layer.

Our flooring service comes with obligation free site visit, quick quotations and free advice. Give us a call on 0800 0434359 or 02088309782 to speak to a member of our staff, who can arrange for a free assessment of your parquet floor sanding or wood floor fitting service at convenient for you time.