The Products Range Used in Our Wood Floor Restoration and Installation Services
During the years of experience we have established a range of professional wood floor installation and restoration products, which we recommend for use in our floor sanding and wood floor fitting services. Please find below more information and specifications about the products and equipment we utilise, including their Safety Data Sheets.
Bona Mega Varnish
Bona Mega Varnish is a one-component, waterborne, 100% polyurethane finish for the surface treatment of timber floors in commercial and domestic areas subject to heavy wear. As crosslinking is achieved using oxygen in the air, Mega has the performance of a two-component finish without requiring a separate catalyst. It has all the advantages of a waterborne system, but still gives a deep, rich colouration similar to a solvent based finish.
Bona Mega comes in extra matt, matt, satin and gloss sheens.
Bona Traffic Varnish
Bona Traffic Varnish is a two-component, waterborne, 100% polyurethane finish for the surface treatment of timber floors in commercial premises or wherever a high resistance to wear is required. It is also suitable for over coating compatible factory pre-finished timber and cork floors. Traffic provides a clear, natural appearance, giving almost invisible protection when the IP (Matt) version is used. However, unlike oil, it offers a simple level of maintenance. Traffic is Bona's most hard-wearing lacquer. Available in IP (Matt) or Silkmatt versions. Where there is a risk of sidebonding, Bona Prime Classic is recommended for the initial coat on bare wood.
Bona Traffic comes in matt and satin sheens.
Bona Naturale Varnish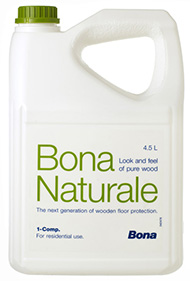 Bona Naturale comes as single and two-component varnish and it offers architects and designers a way of achieving a completely natural looking wooden floor with the durability and protection essential for commercial, retail or public spaces. Bona Naturale two-component gives a floor sealing protection comparable to Bona's most wear-resistant finish. Waterborne Bona Naturale two-component should be combined with Bona Naturale Base. Slip resistance is also a fetuare of this finish, making it suitable for public areas, restaurants etc. Bona Naturale has also been tested for resistance to fire in accordance with EN 13501-1:2004.
Please note, Bona Naturale is not usually included as a standard finish in FlooringFirst quotations, but it will be reccommended for certain floor works.
Bona Naturale comes only in UltraMatt sheen.
Junckers Strong Varnish
Strong is the name of the water based, low odour polyurethane lacquer with a hard-wearing qualities, which the world leader of commercial wooden flooring Junckers has chosen for their single component floor sealant. This extreme durable product we will apply followed by a priming coat with Junckers Prelak.
Junckers Strong comes in matt, satin and gloss sheens.
Junckers HP Commercial Varnish
Junckers HP Commercial is a low-odour, hard-wearing water-based polyurethane lacquer for sealing prefinished or untreated wooden floors with intended commercial use. Two coats of the product will be applied after 1 coat of Junckers Prelak primer.
FlooringFirst also offers Junckers HP Friction+, which is the slip resistant version of HP Commercial lacquer.
Juncker HP Commercial comes in ultraMatt and satin sheens.
Bona R850 Wood Floor Adhesive
R850 is an elastic single component salane-based adhesive for parquet floors fitting. The hardened adhesive is similar to conventional adhesives - able to withhold thrust during expansion, while the resistance against shrinkage is very low. Tensions to the sub floor are therefore reduced. The use of a primer is in general not necessary. The adhesive hardens by a chemical reaction with moisture.
Bona R580 Moisture Barier
Unique, single coat, fast setting, salane-based moisture barrier. Water and solvent-free, Bona R580 is designed to treat damp sub floors prior to the installation of wood flooring using Bona salane-based adhesives. Bona R580 can be used as a two-component system with water to gain an even shorter setting time.
Bona R580 is also compatible with Bona H650 levelling compound. Quartz sand must be broadcast into wet Bona R580 before the application of the levelling compound.
Bona R580 is fully compatible with Bona adhesives R850, R845 and R860 which can be applied directly to the moisture barrier.
Jenkins Resin Wood Floor Filler
Jenkins Resin Wood Floor Filler is a quality compound which is used mixed with the dust collected during the finer floor sanding stages of the restoration process. The wood dust is mixed with the filler and applied into the gaps, cracks and scratches of the floor. The wood filler hardens quickly becoming a solid matter, which will require resanding of the floors again. In most cases the procedure has to repeated two or three times.
Important step in wood floor gap filling, especially when working with pine floor boards is fixing the floors prior to the gap filling. Please note, most companies will not guarantee the durability of the gap filling, as sometime the solidness of the floor depends on the subfloor base.