Home Floor Care for Wooden Floors
Everything you need for your wooden floors - comprehensive floor care system
The Bona Care Floor Cleaning System kit helps you keep your wooden floors beautiful - easily and safely. The kit contains:
Specially designed Bona Care Mophead with a three-piece pole. The Bona Care Mop's low profile and easy-to-manoeuvre swivel-head makes it the perfect cleaning tool for hard-to-reach areas, such as under furniture and cabinets, around floors or in tight corners.
Washable cleaning pad with dust absorbing microfibre, and Velcro-like strips for effortless changing. Reusable up to 300 washes.
1 litre spray bottle of Bona Care Floor Cleaner.
Maintenance guide for wooden floors.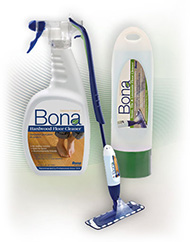 Essential floor care products from Bona - Bona offers a wide range of products for easy, efficient and cost-effective wooden and cork floor care. A few of them are listed here:
Bona Care Refresher - Specially formulated waterborn maintenance coating for all unwaxed finished floors that are dull, scratched, or show signs of wear. Bona Care Refresher restores the beauty of wooden floors, making old floors look new again.
Bona Care Applicator Pad - For use with the Bona Care Refresher. The Bona Care Applicator Pad is reusable and attaches easily to the Bona Care Mop thanks to Velcro-like strips that ensure effortless changing.
Bona Care Floor Cleaner & Refill - Convenient, ready-to-use 1 litre spray bottle cleaner, as well as 4 litre refills.
Bona Care Cleaning Pad - Reusable and washable microfibre cleaning pads that attach easily to the Bona Care Mophead, with Velcro-like strips ensure effortless changing.