Avoiding Damage to Wooden Floors
Some Simple Tips to Avoid Damage
Don't clean wooden floors with a wet mop. Too much water can cause the floor to swell, warp or turn grey.
Don't use wax, soap or other household cleaners on wooden floors coated with finish. They can dull the floor's finish.
Don't let sand, dirt or grit build up. They can act like sandpaper: abrading and dulling your floor finish.
Vacuum or sweep your floors regularly. Once every week is recommended.
Remove spills promptly using your Bona Care Mop and Bona Care Floor Cleaner.
Place mats at exterior doors to trap sand and grit. Use rugs in high traffic pathways, at the ends of stairs and near doorways. Avoid rubber backing or non-ventilated rugs.
Use protective pads or caps on furniture.
Trim your pet's claws. Proper claw trimming helps avoid scratches and gouges.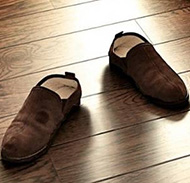 A quick vacuum is a great way of cleaning your floor, just remember to use a soft brush attachment, it will get up all the dirt and not scratch the floor itself.
In case of spills, you have to act quickly, juts remember not to allow the liquids to settle. Use a soft cloth to swab up the liquid as soon as yu can. Never use a soaking wet mop to clean your hardwood floor, just a slightly damp one.
Of course, you will have to make sure to prevent damage caused by wet and dirty shoes in high traffic areas. Put down a runner or a rug with absorbent base any you are all set. The same goes for cleats, high-heeled and hard-bottomed shoes, because they can leave deep scratches on the surface.
What Are The Worst Enemies of Wooden Floors?
Grit and dirt - their particles have abrasive qualities and will cause scuffs marks, dents and scratches. Place doormats at the door.
Liquids - just wipe all spills, because liquids may cause your floor to warp and bend out of shape
Cleaners - only use specifically formulated cleaners for your hardfloor and avoid oil soaps, they leave residue that builds up over time and lead to many problems.
Furniture - never drag your furniture across the floor and install leg protectors, especially in the case of heavy furniture
the Sun - consider closing your curtains or blinds, because direct sunlight may cause discoloration.