The Professional Wood Floor Treatment - Osmo Polix-Oil 2K Pure
Osmo Polix-Oil 2K Pure is professional high quality solvent and water free hardwax oil finish, appropriate for application on domestic and commercial floors. It has improved formula and 2-component structure, which enhances the well-known benefits of the sealants from the oil and wax type.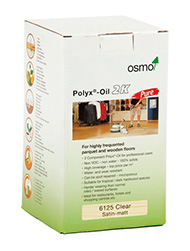 Osmo Polyx-Oil 2K Pure is ideal for all types of wood flooring. After the floor sanding, it can be easily applied on tropical wood species, which are difficult for oil treatment. It can be used for darker wood species as well, such as smoked oak. Osmo Polyx-Oil 2K Pure is very healthy for the wood flooring, leaving an open porous and breathable surface, while at the same time providing extra protection against wine, beer, cola, coffee, milk, tea, fruit juices and water.

The product is made of natural oils and waxes, i.e. sunflower oil, soyabean oil, carnauba wax, etc. It is mixed with solvent free aliphatic Polyisocyanate, to create the fast drying and extremely resistant Osmo Polyx-Oil 2K Pure. At 20 °C room temperature, the product dries in 4 hours, which makes it extremely suitable for domestic properties and even more convenient for commercial floor restoration.

---
Posted: 12 Apr, 2012